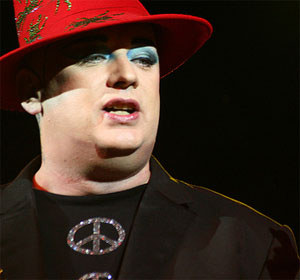 Bye George, u LOOK A MESS BOY GEORGE!!
Culture Club front 'man' Boy George' has struggled with his weight for YEARS!! But now it appears that he has gripped the struggle by the horns and wrestled it to the ground. George has dropped a CONSIDERABLE amount of weight and almost looks unrecognizable!! Check out the SHOCKING BEFORE and AFTER photos after the JUMP!!!
OMG ..Check out BOYGeorge's DRAMTIC WEIGHT LOSS
He CLAIMS he lost the pounds by working with a NUTRITIONIST and portion control....*SIDE-EYE*.
Okay, if you say so!!!
DIG or DITCH Boy George's NEW LOOK!!?!?!?
Like us on Facebook
Join us on Instagram
Follow us on Twitter
www.thegamutt.com