The Chris Brown/Drake scuffle has nothing on what's set to come down the pipeline this fall!! There will be another high-power smackdown and this time it's all about the ladies. Supermodels Naomi Campbell and Tyra Banks will be going head to head this fall as Naomi embarks on a new model competition reality show called 'The Face'!
Just a few weeks ago, Tyra Banks announced that her next cycle of the venerable 'America's Top Model' would be going in an all new direction. And with that announcement, Tyra axed long time judges and creative director, Jay Manuel, Jay Alexander and Nigel Barker. And if that wasn't enough to put the proverbial nail in the coffin, 'Top Model' is moving from it's tried and true Wednesday night time slot to no man's land on Friday nights! Can we say 'JUMP THE SHARK'. Well, Naomi Campbell is set to pick up the fans that Tyra is sure to lose this fall with her new show. This is what Naomi is looking for:
"I'm looking for contestants who have the whole package — a beautiful face; healthy, toned body; unique look; interesting personality; confidence; and, above all, strong work ethic and drive. ... Most importantly, I'm looking for a model with a fearless spirit who can completely transform like a chameleon, and take you on a unique journey that makes you believe that even the impossible is possible."
Sounds like Tyra used to be looking for....
The supermodel is hosting two open calls in New York City and Los Angeles this month to find a bevy of beauties to compete in her new model competition reality show "The Face."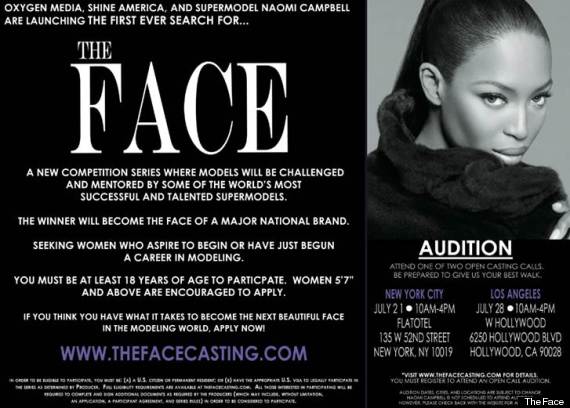 Naomi is looking for two fellow supermodels to complete her judging panel. A source said: "This will be a huge show and the winner stands to make a lot of money if they become the face of a global brand.
"And with Naomi involved there are likely to be fireworks."
Names in the frame to join Naomi include Christy Turlington and Cindy Crawford. If these two don't pan out, wouldn't it be a huge COUP if she swiped up jilted judges, Jay Alexander, Nigel Barker and creative director Jay Manuel?? The CLAWS really would come out then!!
www.thegamutt.com